Physics of new, interesting and useful materials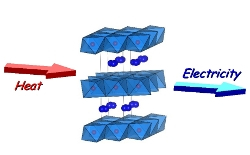 We are interested in the physical properties of strongly correlated electron systems, which are often seen in transition-metal oxides.

In a strongly correlated system, conduction electrons affect with each other through the strong Coulomb repulsion, and move together in a "correlated" manner. As a result, a conventional band picture is seriously broken down, and new phenomena can arise beyond the prediction of a band theory. High-temperature superconductivity in copper oxides and colossal magnetoresistance in manganese oxides are the prime examples.

Our research field covers a wide variety of functional properties in correlated electron systems; a large thermopower in transition-metal oxides, nonlinear conduction phenomena in organic conductors, and multiferroic behavior in novel low-dimensional materials.


Group photo @ April 2019
Topics
Archives
2019.04.16

Member page has been updated.

2019.02.06

Dr. Akitoshi Nakano joins our group as an research associate.

2017.10.03

Member page has been updated. Mr. Tajima graduated from our university. Congratulation!

2017.04.01

Member page has been updated.

2016.10.04

Member page has been updated.

Ms. Ando came back to Japan. Mr. Tajima joined our group.
[&nbspPage Top&nbsp]